.My Travel - Ahmedabad
Connect with Sagar on Facebook




















---
Dates Visited
Been here from 2nd to the 5th of February, 2017 with my mum;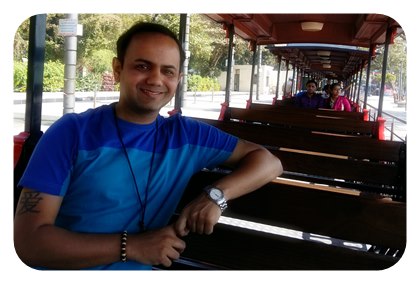 ---
Ahmedabad
A simple city, full of abundance and modernness.

It was hot and humid during the afternoons, but it was manageable.

We took the Pune to Ahmedabad overnight Ahimsa Express (Train # 11096)

. Note that this train does not have a Pantry Car. It was a super-comfortable journey though, as you can watch in my VLog linked here.

On the way back, I could not find economical flights, and the trains were full as well. So, we returned by the A/C Sleeper Satnam Travels bus, and bus journeys are uncomfortable and hectic, by default. It's a pretty inconvenient bus, especially for ladies. This is the last time I will have ever travelled for so long in a bus.
---
Commuting in Ahmedabad
Plenty of auto-rickshaws ready for you. Just make sure that in any case you fix the price beforehand. My observation was that for every KM the charge of INR 10/- is acceptable. Give or take INR 10-20 from the total. They start by telling you INR 30-100 ON TOP OF the actual charges, and you have to bargain. There is no other way. Refuse one, and another one will easily come.

Cheaters are everyone, and God is watching 24x7, but you got to be smart as well. The problem with the Meters (machines) in their rickshaws is that they can tweak / hack it to any reading. Therefore, if a rickshaw driver says, "I go by the meter", refuse him politely, and pick another one.

Share Rickshaws and Buses are also very convenient. They were super-convenient to my mother, who travelled to the Indira Bridge twice daily for attending a Satsang, which was the primary purpose of this trip.
---
Food in Ahmedabad
It was heaven for me. Being a 100% Pure Vegetarian, it was extremely easy to find Vegetarian Restaurants and eatables in general in the city.

In fact, I saw in the Alpha One Mall - a pillar had it written, "No Outside and Non-Veg Food allowed". Couldn't have been happier.
---
Hotel Ashish
A fine place to stay...
Near Dinbai Tower, ahead of Lal Darwaza, Mirzapur Road



DATES STAYED:
Check-in: 8 am on 02-Feb
Check-out: 4:30 pm on 05-Feb-2017
Found it on www.booking.com



BEWARE:
♦ The auto-rickshaw driver who we met at the Railway Station instantly started denigrating the hotel the moment I told him that I'm staying at Hotel Ashish. He said, "The area is Momedian, and it's surrounded by colleges. Since your mother is with you, it would cause problems to her. Student Couples check-in to their rooms for 10-15 minutes. So, cancel it even if you've booked it. Rest, the choice if yours. I'm telling what I know."
♦ We disregarded what he said, because we guessed that he was doing that to take us to another hotel (where he gets commission), and that's exactly what Mr. Mohsin at Hotel Ashish's Reception told us.
♦ Therefore, my Trip Advice to everyone is: Trust your instincts and TripAdvisor reviews. Not blindly, but definitely to a certain extent.

AREA:
♦ This hotel is located at Mirzapur road, and at least 10 people who I told that that's where I was staying frowned at me saying, "Didn't you get a better place (area) to stay?" Everyone recommended me Ashram Road. How on earth was I supposed to know this while booking?
♦ This is the Old City, and the new city is on the other side of the (Sabarmati) river, and there's a lot of liveliness, lighting, and modernness on the other side of the river.
♦ Nothing wrong with this area / hotel, but only after roaming around the city I thought that I would have been better staying somewhere on Ashram Road.

WHY DID I CHOOSE THIS HOTEL:
♦ I did not know about the Old and New City stuff. Had I known that, I would have not booked this hotel. Anyway, there's always a next time.

Now, here comes my review of the hotel:

ROOMS:
♦ Well-maintained. I went for a non-smoking room.
♦ There was dampness on the wall near the window, leading to the falling off of the plaster, but that was just on one side. Unexpected, but negligible.
♦ Room Service was very quick.
♦ Room cleaning was done after 12 noon once on request. It was not done when I did not request.
♦ View outside the window was that of an old, scary, dirty, unused bungalow, overlooking the Mirzapur Road.
♦ My room number was 208. Front-facing and noisy due to traffic on the Mirzapur Road.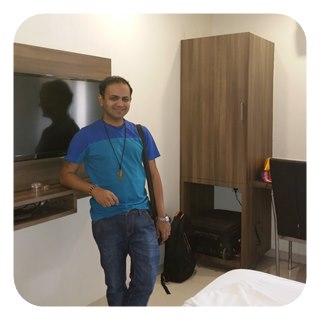 Wi-Fi / INTERNET:
♦ You are given a small coupon with a Username and Password. It lasts for 24 hours from your first sign-in.
♦ Sign-in is one-time for a coupon. While signing in, you need to provide your mobile number, where an OTP is sent. During sign-in, even if you see errors, simply refresh the browser. You can take multiple coupons. For instance, I took one for my mobile, one for my mother's mobile, and another for my laptop. You need to take new coupons, as they expire after 24 hours of use.
♦ Internet speed is good, reliable, and unlimited. Just that Uploads and FTPs are disabled by their ISP, which caused me an inconvenience in uploading my VLogs and updating my website. However, I am smart, and always prepared. I used my Airtel Hotspot to do the same.
♦ I guess their ISP also disables the Flash Player on your browser, which you need to re-enable.
♦ Btw., unlike my experience in Madurai, TN, my Airtel mobile's Data Connection was working perfectly fine across the city of Ahmedabad.

STAFF:
♦ Mr. Mohsin is very professional and helpful, and that's all I need from a human being. He asked my mother twice whether she was comfortable staying here after 1-2 days (because of the story we heard from the auto-rickshaw driver). I appreciate that. A special appreciation to him for this: I was once speaking with him, and his phone started ringing. He completed his answer to me before picking up the phone. This quality is found VERY RARELY in human beings today. The other person I know having such quality is me.
♦ Their room service and housekeeping staff is good as well.

FOOD:
♦ Easily available with the room service at no extra charges. Rates are Okay.
♦ They make breakfast in-house, and have a nearby restaurant named Nutan (Pure Veg.) for meals.
♦ Their tea is probably Masala Tea (very "spicy"), however, we asked them to add extra milk and sugar, which they did to tone it down.



NEARBY / LOCATION:
♦ Almost nothing to eat at an easily walkable distance (especially for old people like my mother). Food that is seen on carts appears too unhygienic to eat. There's a Hotel Lucky at 300 m or so, but my mother was a bit uncomfortable to go there as it has graves inside the restaurant. Yes, you read it right. It was a very old Darga that was converted to a restaurant by a Kerala-based man. That's what the restaurant is famous for, but my mother was uncomfortable, and nothing's more important than her in this world.
♦ Shree Swaminarayan Temple, Kalupur at 1 km
♦ Shopping Market at 1 km
♦ Sindhi Sarees Market at 2 kms or so (near Relief Road)
♦ Parimal Garden & Law Garden at 3.5 kms
♦ Kankaria Lake & Kamla Nehru Zoological Garden Zoo at 4 kms
♦ Ahmedabad Central at 6 kms
♦ Alpha One Mall (good mall for watching a movie at Cinepolis) at 7 kms
♦ Will add more here as time passes.
---
Kankaria Lake & Kamla Nehru Zoological Garden
Great place to hangout for an entire day.

A must visit, especially for the birds.

DATE VISITED:
Thu, 02-Feb-2017

The Kankaria Lake and everything inside it is a very good place to hangout for an entire day.

KAMLA NEHRA ZOOLOGICAL GARDEN:
♦ At the Gate 3 entrance of the lake, this is a must visit, especially if you love birds. Yes, the zoo is well-maintained, and I clicked a lot of photos of the birds inside.
♦ Entry Fees INR 20/-
♦ Camera Charges INR 5/- to INR 1,000/- depending upon your camera
♦ It's huge, so make sure that you carry a lot of energy, time, and space on your camera's card.

TRAIN at KANKARIA LAKE:
♦ I love trains, and enjoyed this as well.
♦ Ticket Price: INR 25/-
♦ Just that they wait for enough number of passengers before starting the train.
♦ It goes around the circumference of the Lake (approx. 4.5 kms) and takes 15-20 minutes for the same.
♦ It's really fun.

BALLOON SAFARI:
♦ Did not take this. Just noting it down for anyone interested.
♦ Ticket Price: INR 270/- per adult (is what I saw from the train from a distance)
♦ Goes up and comes down. Total time: 5 mins.

OTHER ATTRACTIONS:
♦ There are other attractions like the Butterfly Garden, which I missed, and many other rides for kids as well, but I thought it'd be inappropriate to take them at the age of 35.

FOOD at KANKARIA LAKE:
♦ Pretty good combo meals (for 2 persons) available at the Kankaria Lake.
♦ There's a snacks shop inside the Zoo as well, where you can get snacks and water.
---
AlphaOne Mall
Great, gigantic, magnificent place to hangout for an entire day.
I went solo.

DATE VISITED:
Fri, 03-Feb-2017

Huge, gigantic, and a magnificent mall in Ahmedabad. It's a bit far from the main city, I suppose, but very convenient to reach. I think this is just the first or second mall this size that I visited in life. The first must have been in Bangalore.

There are many branded stores there for shopping as much as one wants.

Cinepolis
This will be a special date / experience in my life. I watched Resident Evil: The Final Chapter

I'm a BIG fan of this movie series, and that's what makes this date / experience / mall / theatre special.

A cute thing that happened was - they started playing the movie in Hindi, then paused after a minute or so. Me and a very cute (bearded) guy (who was sitting with his girlfriend) had a little laugh about this. Fortunately, the theatre realized this themselves, and restarted the movie in English.
---