.My Travel - Adlabs Imagica
Connect with Sagar on Facebook




















---
Dates Visited
Been here thrice: Fri, 27-Sep-2013
Sat, 09-Aug-2014
Tue, 28-Apr-2015
---
Theme Park - Review
I've been thrice to Adlabs Imagica's Theme Park, once each year since 2013. Dates above.

HOW TO REACH: Their website does have directions on how to reach, and it's approximately 90-100 kms from Pune (depending on where in Pune you are). The road, once you leave the Express Highway, is one of the worst roads in India (Khopoli-Pali road).

TICKETS: I purchased the Regular Tickets during my first two visits. During the third visit though, I reached at 11 am, and realized at 3 pm that I was waiting in a lengthy queue only for my 3rd ride, so, went out and upgraded my tickets to Express, and then sat in at least 5 rides after that within 1½ hours. I've sworn that I would only take the Express Tickets now on. I value Time more. Express Tickets are worth it.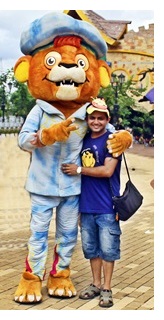 RIDES: Each and every one ride is awesome. "Rajasaurus River Adventure" is my first favorite. During my third visit, I saw additional scenes in the Mr. India ride, and it was a pleasant surprise. I've never sat in Scream Machine and Nitro (and will never). Each and every ride is awesome, and keeps you high. The 30 seconds Deep Space ride was not worth the wait. I thought I'd at least see some planets inside, but it was only dark, and I hardly saw anything but the rails in front of me. Curse of Salimgarh is one of my most favorites too. However, an overall 5/5 for the rides from me.

STAFF: During my first visit, all of them were very polite. Now, they have started getting irritated at the Visitors. Indians may not mind that, but in my honest opinion, it does not suit the standards that Adlabs Imagica is trying to set (i.e. one of the owners in the videos says, "We target to make this the next big entertainment / amusement destination in the country"), and such small-small things matter. One consistent example is the Baggage guy at the Rajasaurus ride, who is very rude, inattentive, and unfriendly. There are more too. Rude language like, "Waha kaha ja rahe ho, queue idhar hai", "Wait wait wait, I will come there" are negligible, but it doesn't suit what Adlabs Imagica is wanting to become. However, this is minority. Majority staff (those are restaurants / other rides) are very courteous, and makes us feel happier. My 3/5 for staff.


STORES: My bigger attraction than the rides. I've bought T-shirts, Soft Toys, Caps, and other goodies too, and I go to Imagica more for those stores than those rides. :D My 6/5 for stores.

MY CARTOON FRIENDS: The second big reason why I love going to Adlabs Imagica is the cartoon friends moving around there. I've clicked photos with the lion, seven dwarfs, a witch, and many more. I've seen them in cartoon films, but I don't know their official names, but I simply love them ♥ My 6/5 to them :)

FOOD: Good. Costly, but that's expected. Quality of some food items is good though. I've had a Veggie Burger, Paav Bhaaji, and some other stuff, and didn't regret it. Not sure if it was just me, but I couldn't spot simple Indian Tea anywhere. My 4/5 for food.

HAPPY TUESDAYS: During my third visit, I went there on a Tuesday because the tickets were at a 50% discount, but it was horribly crowded outside.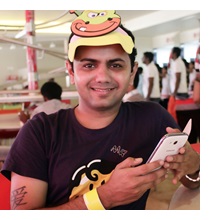 On going inside, although I couldn't see too much crowd, the rides had lonnng waiting times of up to 1 hour. That is when we went out and upgraded to Express Tickets, otherwise we wouldn't have been able to enjoy the rest of the rides. It is my oath that, henceforth, whenever I go, it will only be with Express Tickets (even if there's no crowd at all). However, one can certainly take a call on that on checking the number of people at 11 am at the ticket counters.

PARADES AND LIGHTING: Watched the Parade during my third visit for the first time. Enjoyed it. The lighting at night is beautiful, as usual.



WILL I GO THERE AGAIN? Of course. I've not yet bought many other Goodies from there. Kept them pending on purpose. Waiting for their Hotel to build. I'd like to go, stay there, and enjoy for two days.

PHOTOS ON IMAGICA'S FACEBOOK PAGE: I shared some memories with the page, and they uploaded them onto their album. Click here

to open the first photo, and click Next on the photos to view them serially.

---
Water Park (Aquamagica) - Review
Yet to visit
---
Snow Park - Review
Yet to visit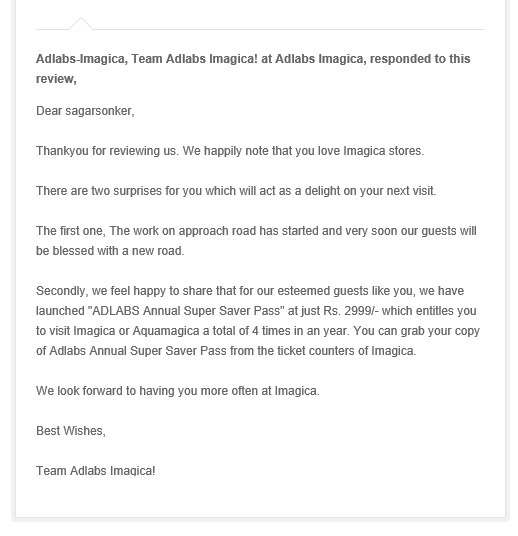 ---
On Map

.
---