.My Travel
bit.ly/sagartravels
You travel not to explore the world,
but to explore yourself.
- Sagar Sonker




I love traveling. It gives me an opportunity to see all the beauty that this world has to offer. You can read my travel stories, reviews, and (mostly positive) experiences by clicking on the Locations above. Times New Roman - Red - 14 - Regular
Travel Map
Below is my Travel Map, which I love to update on a regular basis.
I've travelled to 43 cities across 3 countries so far.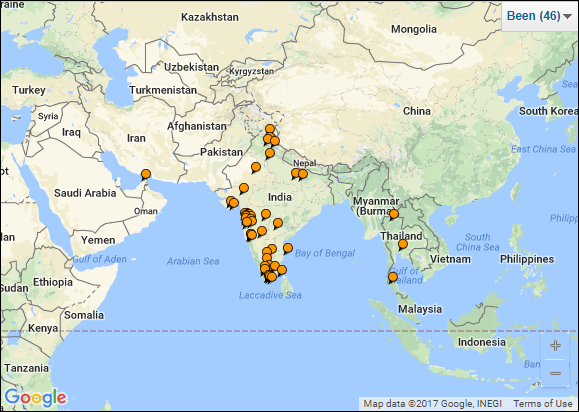 .Interesting Links
Note that these are only reference links that I found. I do NOT endorse and certify them and I have NOT verified or validated the information contained therein. Refer the latest official sources for more accurate information.
Read the full Disclaimer by clicking here

♦ Visa requirements for Indian citizens
♦ 22 International Destinations Every Middle Class Indian Can Afford
♦ 22 Cheap destinations for 2017 with great weather in April
♦ Hong Kong:
- VISA Information
- Pre-arrival Registration (Immigration Department)
♦ How many countries have currencies less valuable than the Indian rupee
Reader's comment from the page: This doesn't matter much as PPP (purchasing power parity) of a currency matters more than it's value vis-a-vis other currencies mostly USD (since currencies fluctuate and most are only traded against the dollar, some are partially convertible or full convertible and that's a different level of confusion altogether). A good and easy to understand gauge, however, is the Big Mac index created by The Economist in 1986 to measure how much would in cost to buy a Big Mac (cheese-burger manufactured by McDonald's) in different countries. Based on this you could value how much different currencies are devalued against the dollar. The Big Mac index



♦ 40 Popular Tourist Scams Every Traveler Should Know About
♦ 39 Tips Every Backpacker Should Know
I'm NOT a backpacker, and I don't like to use that term on myself, but sharing this for whoever may find it beneficial.
.Solo Travel
♦ The Best Countries for Solo Travelers
♦ 35 Amazing and Easy! Solo Trips
.Gay Travel
♦ smartraveller.gov.au/guide/lgbti-travellers
♦ http://nomadicboys.com/


♦ LGBT rights in Asia
♦ Top 10 gay wedding destinations

.
---