Halloween Fun Contest 2015 by Sagar.
This contest is now over.
Winners & Prizes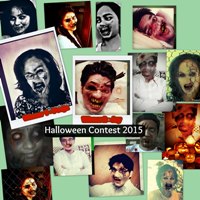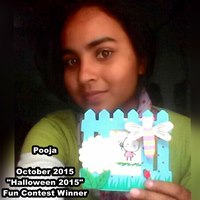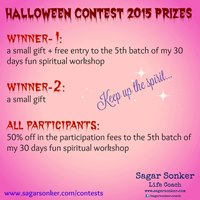 Callout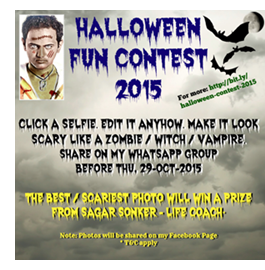 Contest Details
Click a selfie. Edit it anyhow. Make it look as creatively scary / witty as possible, like a Zombie / Vampire / Witch. Share the photo on my official WhatsApp Group before Thursday, 29-Oct-2015 (IST). Stand a chance to win a prize from me.

Terms & Conditions:
- There is NO participation fee to enter this contest
- This is a Fun Contest, therefore having fun is the topmost priority here
- One person can share as many entries as he / she wishes
- Entries must be shared only on my official WhatsApp group
- Last date/time to share your entry: 11:59 pm of 29-Oct-2015 (IST)
- Winner's Decision will be made by me, and will be final
- Winner's name and all participants' photos will be uploaded on my page by me at the end of the contest. Winner must respond to my communication within 6 hours.
- Anybody can participate, and anybody can win, but the gift can be delivered to an Indian address only.
- Creativity (for making it scary) is the only criteria that will be considered
- You must star in your photo. Your full face must be clearly visible in the photo.
- Photo should be edited using any online software. Just search on Google. You may use real props / costumes, but that should be secondary.
- To join my official WhatsApp Group, message me on my page.
- For more queries, contact me on www.facebook.com/awkenwithsagar

---


.
---