Egg Decoration 2017 by Sagar.
This contest is now over.
Go to the other Easter Egg Contest →
Winners & Prizes
Thanks, to every single participant, who took the efforts in creating such wonderful eggs, and being part of this fun journey. Every single entry is hugely appreciated and it is the indication of your self-love. Keep it up!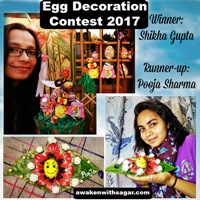 Shikha Gupta is the winner of this Contest. However, it does not end here.
I would also like to announce Pooja Sharma as the Runner-up.
Also, as a token of thanksgiving and love, all contest participants also receive a small gift from me.
About the Contest
♦ This Contest starts on 10th April and ends at 11:59 pm (IST) of 15th April, 2017
♦ Create an Egg and decorate it as creatively as you can.
♦ There are no limits to your creativity and innovation in this Contest.
♦ It should be a real, physical creation. Not virtual.
♦ It does not need to be a real egg, though, but Sagar wouldn't stop you from using one :)
♦ You can create up to two eggs and submit them as two entries.
♦ NOTE: It is mandatory to join the temporary WhatsApp Group, as that's where you will be sharing your photos.

Terms & Conditions:
- There is NO participation fee to enter this contest
- This is a Fun Contest, therefore having fun is the topmost priority here
- Anybody around the world is eligible to participate / win
- Winner's Decision will be made by Sagar Sonker, and will be final
- Winner's name and photo will be uploaded on Sagar's Facebook page by Sagar at the end of the contest.
- Winner must respond to Sagar's communication within 6 hours.
- Creativity and Enthusiasm is the only criteria that will be considered
- Your photo with your prize is required for Sagar's page as well.
- WhatsApp Group Link: Not Applicable
- Disclaimer

applicable
- For queries, contact Sagar on fb.me/awakenwithsagar



Photo Rules:
- One person can send a maximum of two entries (i.e. decorate two eggs)
- Send clear photos
- Send ONLY after your work is complete. Do NOT send multiple photos of the same egg.
- Do NOT edit photos while sharing them on the WhatsApp Group
- Write your name near the egg. That will act as your signature.
- It is mandatory to send your Close-up Selfie with your egg, to confirm that it's your preparation
- This Selfie must show your Face and the Egg clearly
- The Winner's Selfie will be uploaded on Sagar's Page
- All participating eggs' photos will be uploaded to Sagar's Facebook Page