My Travel - Thailand - Bangkok.
Connect with Sagar on Facebook
bit.ly/sagarinbangkok










---
Back to Thailand - Main page ↺
Bangkok, the City of Life is truly a city full of life. A very welcoming city with wonderful and friendly people. On this page, you'll find everything that I did in Bangkok during all my visits, and the places I stayed at.

P.S. I did NOT go there for hook-ups and I did not hookup with anybody. My idea of "fun" is very different and I am looking for my Rajkumar. This ain't a justification, but writing it only, because some people blatantly conjecture (and spread) things without knowing the person.
.
Table of Index
From Airport to City [...]
Lub d, Siam Square, Bangkok [...]
Bangkok City Inn, 43/5, Rajdamri Road, Pathumwan, Bangkok 10330 [...]
ibis, Siam Square, Bangkok [...]
Places I visited in Bangkok [...]
Moving around in Bangkok [...]
Helpful Links [...]
From Airport to City
The best, fastest, convenient-most, and the cheapest way to reach from the Suvarnabhumi Airport to the city is using the City Line (if you've missed the tip I've written in my main Thailand page). After you collect your checked-in luggage and the VISA, take the Exit, and look for the City Line symbols. You will reach the basement of the airport, from where you will get to the City Line ticket machines. Purchase a ticket (45 Baht to Phaya Thai) and there you go.

Bangkok is a city of huge traffic. So, my strong suggestion is to avoid Cabs / Taxis. Roam around only by Skytrain Metros.
---
Lub d, Siam Square, Bangkok
1 Baht was approximately 2.08 rupees during this trip.

An ideal place to stay! Lub d is essentially a chain of hostels. We stayed at its Siam Square location during my first visit to Bangkok in Aug-Sep 2013. During my research, I accidentally found the area named Siam, and noticed on Google maps that it's the heart of the city. BTS Skytrain (one of the metro trains that runs in Bangkok) was nearby, and so were the two big attractions named Siam Ocean World, and Madame Tussauds, besides many others, so I chose to stay here.


I booked it through the website www.asiawebdirect.com as that is where I found it first.

ROOMS:
Although it's essentially a hostel, they have Private Rooms too (with either shared / private bathrooms - as per your choice). Rates are pretty low. You might as well spend that difference money shopping. Rooms are very clean, very well-maintained. We got our room cleaned daily without asking for it. Different types of rooms have different services / facilities. The only thing I didn't understand was why their walls inside the rooms were only half-painted. Loved the innovative hangers inside (picture here), besides the small clock and the writing table.

There is always apprehension before reaching the place, and I had that too, however, this was the best choice for this time. We chose a Private Room (with shared bathrooms, separate for males and females). The bathrooms / toilets were very very clean as well.

We had lockers inside our room where we kept our dead mobiles before leaving the room. They do ask for 100 Baht deposit per key card to the room, and return it during check-out.

The premises are No Smoking as per their rules. Although I found some smokers sitting in the open area, it did not disturb me.

They have Wi-Fi throughout their premises, and it's very high-speed. This was a plus point for me to keep posting beautiful updates on the Social Media.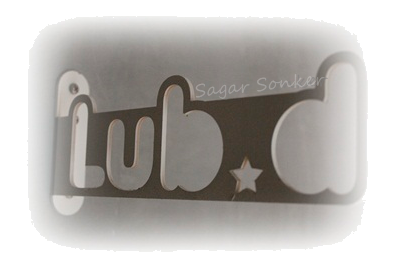 STAFF:
Very welcoming, warm, polite, cooperative, cheerful, friendly, young and fresh. They can very well converse in English. Three cheers to them.

COST:
You may find cheaper hotels / hostels than this, but besides the location-convenience, I found myself feeling "safe" and the place (esp. rooms and toilets) was clean as well (which matters to me). Here, at Lub d, they say that cleanliness is not an option, it is mandatory. It is true, and my full marks to the cleanliness maintained there.



LOCATION:
Excellent location!

I was happily shocked to see that BTS Skytrain's escalator was not more than 30 seconds walking distance from Lub d, Siam Square. It came to us as a blessing, otherwise traveling in Tuktuks / Cabs would have caused us the inconvenience of traffic.

Despite being next to the road and the train, there was not too much noise. In fact the sound of the metro train is often pleasant to train-lovers like me. I could also hear the door-closing beeps of the train at late night.


NEARBY:
Siam itself is the heart of the city, so there are lots of places to visit there within the vicinity of 1 KM to 10 KMs, most of them reachable via the BTS Skytrain. Also check out Places I visited in Bangkok on this page itself to check out whereall I visited in Bangkok.

There is a 7/11 right next to Lub d, Siam Square, where you can buy lots of stuff, from biscuits, chocolates, water, to snacks & biscuits. The same water bottle that costs 15 Baht inside the Lub d's bar area will cost you 10 Baht in this store (and on the roads). There is also another water bottle, made of crackling thin plastic, that will cost you 7 Baht. I just bought it for fun.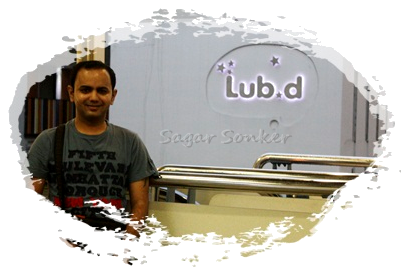 HOW TO REACH:
If you've landed on the Suvarnabhumi Airport, Bangkok, catch the City Line (metro train) up to Phaya Thai (costed me 45 Baht). Get down at the last station Phaya Thai, and purchase a ticket from Phaya Thai to National Stadium (costed me 25 Baht) from the ticket-vending machine. Catch the Sukhumvit Line. Sukhumvit Line is the train that goes towards Bearing, the boards for which are shown in light green color. Get down at Siam, cross the platform. Since you've already purchased a ticket, no need to purchase one again, just catch the train (Silom Line, dark green colored boards) that is going towards National Stadium (which is the last/terminal station). Get down at National Stadium and take the Exit 1 (I hope I remember correctly) that goes towards the tall ibis hotel building, next to which is Lub d, Siam Square. Will confirm the exit number here once I visit there next time
This is the picture of me standing at the National Stadium's BTS Station with the Lub d building right behind me.

OVERALL:
Good experience staying here, and I will definitely be back. The only little disappointment was that they didn't have those Tank Tops in more colors. I wanted to buy one.
---
.
Bangkok City Inn,
43/5, Rajdamri Road, Pathumwan, Bangkok 10330
Very happy with my choice! I stayed here during my lone / second trip to Thailand in March 2014. Initially, I was a little apprehensive about this hotel, because I did not find their website very user-friendly or promising. I chose it, because it was at the center of the city, and I read good reviews about it on TripAdvisor. I had booked this hotel from www.cleartrip.com.



UPDATE: I no longer see this hotel on ClearTrip's website, and their official website (linked above) also points to a bizarre page. I found the hotel on Booking.com though, but unlike the past, the newer / latest reviews on TripAdvisor are bad.


ROOMS:
I forgot to ask for a higher floor, but I got the 7th floor (room number 708) and the view was beautiful with all tall buildings around. I had been alone, but the window with all the city's lights outside kept me entertained.

Good to have got the room cleaned daily, towels changed, toiletries replenished (without any charges for the same). They also provided me two free water bottles in the fridge daily.

Internet (Wi-Fi) was at 20 Baht per password, and according to the receptionist, one password (account) lasts for 3-5 days. The trick was to go to www.google.com and then enter the login details provided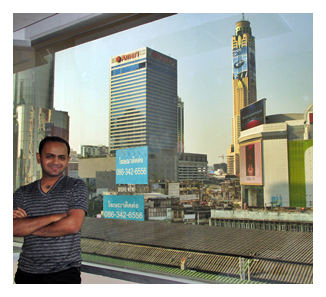 STAFF:
Very friendly and helpful.

COST:
They are reasonable, and really good. My Standard Room included complimentary daily breakfast too. Hardly any options for Vegetarians, but I at least got fruits and bread-butter-jam, which was like a blessing. There was also tea / coffee available with milk.

LOCATION:
Not at all difficult to find. However, note that there are at least three hotels with similar names in Bangkok. The one above (its address is its unique identifier) is located right opposite the Central World / World Trade Center, located in the Pratunam, Pathumwan area.



NEARBY:
A lot of places:
1. Super Rich Money Exchange: Right behind the hotel (the backside of it). There are a couple of others, but the best one as mentioned on this blog is this.
2. Central World Shopping Center: right on the main road after you walk a 100 feet from your hotel
3. Big C Supermarket: at about 200 feet
4. Khlong Saen Saep Canal Express Boat (Pratunam station) at a 1 minute walking distance. Visible from the hotel windows too. I went to Wat Saket in the same boat.
5. Platinum Fashion Mall: Visible from the hotel, and at a 5 minutes walking distance, just across the road
6. Pantip Plaza: At a 10 minutes walking distance, just adjacent to the Platinum Fashion Mall
7. Pratunam Market: for the shopaholics like me
8. BTS Skytrain: Chit Lom station. Around 900 meters walking distance. Very easy to find.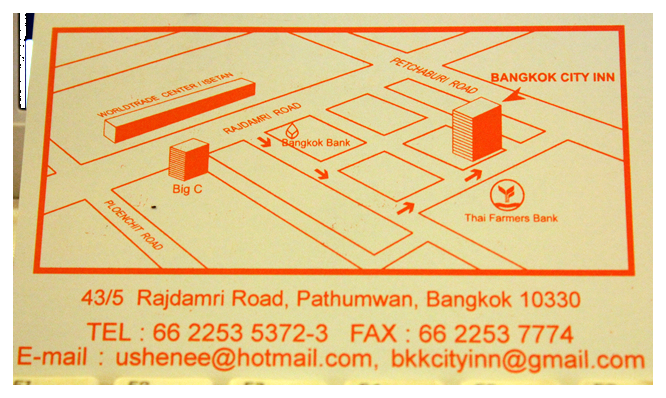 HOW TO REACH:
The best way is to take the Sukhumvit Line and get down at the Chit Lom station. Exit towards the Central World shopping center, and make sure you get down from the stairs which will land you on the footpath opposite to the Central World.

So, as you see the Central World on your left, walk on the footpath along the Rajdamri / Ratchadhamri road. You will see Big C Supercenter on your right. Keep walking. You will see a Chinese Restaurant. Turn inside on the right. Take the first left as the Chinese Restaurant ends. Go towards the 7th Sense Spa. You will see Mr. Feet massage parlor on the corner. The hotel is just adjacent to the massage parlor.

OVERALL:
Very very good hotel. Must visit. They are much more than 2 Star. I will go there again when I plan my next trip to Bangkok. The only little con was that it's around 1 KM from the Chit Lom BTS Skytrain station, but otherwise, it's close to everything else, which I generally go to Bangkok for. Nevertheless, if I have to choose between ibis Siam and Bangkok City Inn, I will definitely choose Bangkok City Inn.

---
.
ibis, Siam Square, Bangkok
A very good place to stay! I stayed here during my Second (Solo) Trip to Thailand in March 2014. ibis is well-known, and after returning from Krabi, I wanted to stay for one day in Bangkok and move around by the Skytrain, for which I thought ibis would be a preferred option to Bangkok City Inn.

ROOMS:
I asked for a higher floor, and I was given the 16th floor with a lovely view. This was the first time I stayed at such a height.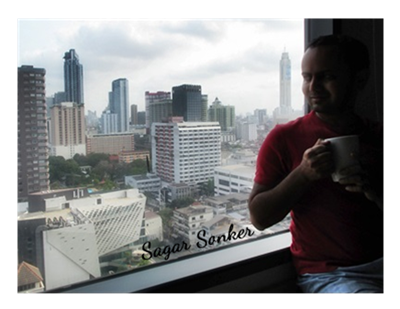 I checked-in at 11 pm in the night (18-Mar-2014) after returning from Krabi, and was asked to pay a deposit of 500 Baht per night, which was returned to me during checkout.

There was no Drinking Water in the room when I entered.

Internet (Wi-Fi) login was provided. Go to www.google.com and then it will redirect you to the login page. They had blocked YouTube Video Uploads. So, I could not upload my trip memories quickly through ibis.

There was also tea / coffee with maker available. The plug points there were universal and at convenient locations in the room - at least my Indian plugs worked directly.



STAFF:
Good.

COST:
Fair enough for ibis. I had been through an early booking offer without breakfast, and those beautiful views from the 16th floor were worth it.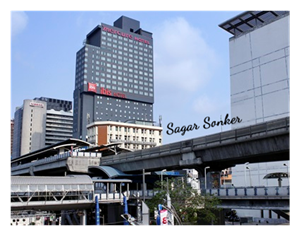 LOCATION:
Right next to Lub d which is at a 2 minutes walk from the National Stadium BTS Skytrain station. This is a BIG plus point.

NEARBY:
A lot of places:
Apart from those mentioned under Lub d
1. MBK Shopping Center
2. BTS Skytrain - National Stadium station. Around 100 meters walking distance. Right next to the hotel. Very convenient.

HOW TO REACH:
The best way is to take the Silom Line and get down at the National Stadium. You will find ibis's tall building right next to the station.

OVERALL:
Good hotel, specially considering the quality of the room, quality of sleep, and the gorgeous views from their higher floors. Nevertheless, if I have to choose between ibis Siam and Bangkok City Inn, I will definitely choose Bangkok City Inn, the review of which I have written under that section.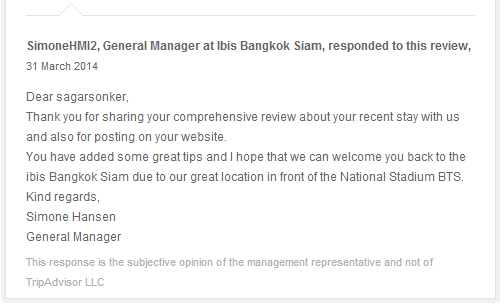 ---
.
Places I visited in Bangkok
.
1. Chatuchak Weekend Market / J.J. Market
Chatuchak Weekend Market, world's largest weekend market, is a shopper's paradise. I shopped till I dropped during my three visits there, and have still not had enough. You will get almost everything you need in life there. Not branded clothes, but very good stuff. From t-shirts, to tanks, vests, briefs, boxers, belts, etc. The clothes in Platinum Fashion Mall (PFM) are slightly better in variety / quality, but Chatuchak and PFM are pretty similar. Shops open in the morning and close by 5 to 7 PM in the evening on weekends. You get water bottles inside the market too, so don't worry. Be sure to wear light clothes, as it's not an Air Conditioned Mall, but just a magnificent group of stalls.
Let me note here - I got a red shorts there at 279 Baht (the lady did not discount further), but a very similar (probably same) red shorts was at 250 Baht in PFM, so keep your eyes wide open. An important tip - never buy in the first stall. Check for options, and then go back and buy at the best price.
Not just clothes, one gets a lot of souvenirs, articles, and memorable, unique, and creative items here. If you visit Bangkok and not go to Chatuchak, you have not completed your trip
One visit is not enough! For me, I've been here during each trip, and these visits have still not been enough!!

GETTING THERE:
Take the Sukhumvit Line BTS Skytrain going to Mo Chit. There are three entrances to the Chatuchak Market. You can take the BTS Exit towards Chatuchak Park, and there you will find an entrance to the market. Very easy to find, and on the way you can start buying stuff too.

2. Platinum Fashion Mall (Phase I & II)
Another shoppers' paradise. Stuff here is definitely a little more standard, as it's a mall, but from my experience, the shorts that I bought at 150 Baht in Chatuchak Market costed 200 Baht here. However, this is not to be quoted. I purchased a very good backpack here at 300 Baht (it was on sale). You will find lots of SALES in this mall, and on searching well, you will find good stuff at good price too.

On the first day, I visited the mall's Phase I only, and it was so huge that I misunderstood that's all it was. However, it does have Phase II as well where you will find stuff for men too. Phase I just has women's footwear on one floor, ladies bags / purses on another floor, dresses on another, and so on, but you'll find stuff for gents in the other phase. I got some really good quality shirts in PFM during my second Thailand trip, at a really good cost.

GETTING THERE:
If you're going via BTS Skytrain, do not get down at Siam, as it's far from there as compared to Chit Lom as per my experience. (There may be undiscovered shortcuts, but why experiment while walking!) Get down at Chit Lom, and walk over the Skywalk (pedestrians' bridge), enter the Central World (if you want to walk in AC) or get down on the footpath after you see Central World (if you are fine to walk without AC), and walk until you reach the other end of the Central World (at the Trimurti Shrine - Ganpati's open temple), next to Platinum Fashion Mall (you will see the building as you near the end).

3. Pantip Plaza
Right next to the Platinum Fashion Mall, Pantip Plaza is a place for electronic gadgets. It's a huge huge mall. You will find almost everything related to computers, cameras, laptops, and other electronics in it.

GETTING THERE:
It's next to Platinum Fashion Mall.

4. Pratunam Market
Another huge market (group of stalls) to buy lots of stuff. It's a mini version of Chatuchak Weekend Market.

GETTING THERE:
Pratunam Market is on the opposite side of the road from the Platinum Fashion Mall. Cross the road and there you are.

5. Madame Tussauds, Bangkok
Must see. Doesn't need any description. I bought the Early Bird tickets from www.madametussauds.com/Bangkok that I got at 800 Baht (each). The only condition was that I was required to enter before 12 noon to enjoy the discount. I could do that very easily as we stayed very close to Siam Discovery (the building having this wax museum on the 6th floor). Note that Siam Discovery opens at 10 AM. I also got one picture officially clicked with Obama's statue.

GETTING THERE:
Get down at Siam BTS Skytrain station, if you're going by train.



6. Siam Ocean World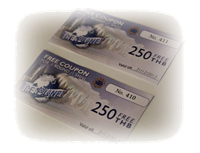 This is located in the basement of the Siam Paragon, and is another amazing place that one must visit for sure. You will really enjoy a lot. I purchased tickets online in advance from their website www.siamoceanworld.co.th, and forgot that people who purchase online tickets have a special privileged queue, but the staff there invited me to that queue, and took us right inside. It was fun to float over 27 sharks, and then later watch them through the tunnel.

They gave me two free Ice Skating coupons (worth 250 Baht) for 1.5 hours (image here), but I did not go. These tickets are valid until 31-Dec-2013, so if anybody wants to go, please take these from me and enjoy :)

GETTING THERE: Get down at Siam BTS Skytrain station, if you're going by train. Siam Paragon is right next to the station.

7. Central World
Didn't "visit" it as such as it is gigantically magnificent. Just passed through it in awe.

GETTING THERE:
Check out that for Platinum Fashion Mall.

.
8. Wat Arun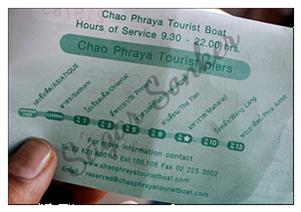 This is a must visit if you're going to Bangkok for the first time. It was beautiful and worth it. It costs 50 Baht to enter the temple, and it's open from 8 AM to 6 PM daily.

Climbing the stairs was dangerous, but an amazing experience. The view from top is amazing. Be careful while climbing down though. Although it's a temple and I went there in shorts, I was not stopped by anybody, but it's always good to go there in decent dresses. It's very hot there, so wear accordingly.

GETTING THERE: Initially I thought that it's difficult to get there, but it was pretty easy. Catch the BTS Skytrain (Silom Line) going towards Bang Wa (that's the name you'll see on the boards on the railway station). Get down at Saphan Taksin. Check out the exit towards the boat ferries (known as Sathorn boat ferry station at the Chao Phraya Tourist Boating Services), and take a ticket (costed me 40 Baht) to Wat Arun (which is the Station # 8) of the boat. There are proper boards, and announcements made in the ferries, so don't worry. Once you reach the Station # 8, which is actually known as Tha Tien. It's the opposite side of the temple. Then take a ferry to Wat Arun to cross the river (costed me 3 Baht), and there you are. Click on this ticket's photo to open a higher resolution.

9. Snake Farm, Queen Saovabha Memorial Institute
It was a good decision to visit there. Enjoyed a lot.

GETTING THERE:
Take a BTS Skytrain (Silom Line) to Sala Daeng (same direction as that mentioned under Wat Arun). Get down at Sala Daeng and it's just 600m from the exit at the Red Cross.

10. MBK Center / Tokyu
Besides Chatuchak and Platinum Fashion Mall, MBK is yet another shopper's paradise. Magnificent, and lots of clothes, souvenirs, and good items on sale. High discounts. Tokyu is on one side of the building and there are really good clothes and other items there, whereas MBK is also a collection of branded, non-branded, expensive as well as inexpensive clothes. A must visit for shopping-lovers.

GETTING THERE:
Right next to the National Stadium BTS Skytrain station.

11. Big C Supermarket
Big C is another lovely supermarket, where you get clothes and food. Stuff that I bumped into was mostly branded or higher in price range. However, there I found packets of watermelon and mangoes in the range of 19 to 30 baht, and was really glad about it.

GETTING THERE:
Take the Sukhumvit BTS Skytrain's Line and get down at the Chit Lom station. Walk backwards (towards the Siam station), and get down at the footpath opposite the Central World shopping center. Walk from one end to the other. There you are.

.
12. Wat Saket / The Golden Mount
Wat Saket is a must visit Buddhist Temple. It takes not more than 20-25 minutes for an average person to climb up the easy stairs with halts. Even if it gets a bit tiring on the way, you can go up and relax in the main temple's hall on the top where there are fans to cool you down. The temple is beautiful, and shoes are allowed in. You can click photos without hesitation, and watch all the Buddha's beautiful golden statues, and pick up some souvenirs if you wish to. Note that you may get those souvenirs at Chatuchak Market too.

Not too much to do up there, but if you enjoy sitting and relaxing doing nothing (like me), clicking photos from top, and just being at a nice location, you will surely enjoy the place.

GETTING THERE:
Khlong Saen Saep Express Canal Boat is the easiest way to go there. Just go to one of its stations, check on the map for Panfa Leelard, and take the boat going in that direction. It's as simple as that. The ticket I took was from my hotel, the closest station was Pratunam. It costed me 12 Baht, and it was a fun ride. After you get down at the Panfa station, and come out, you will be greeted by Tuktuk drivers telling you lies that the temple is closed between 12 and 3 pm, and that they will show you other places meanwhile in 20 Baht. It's a lie. The temple is open from 7:30 am to 5:30 pm. I don't know what they are up to, but I've heard that they take you to some shops and kind of force you to buy some gold. If you firmly say a, "No Thank You" (like I did, and I was alone and easy for them to 'catch'), they leave you easily. Then walk over that beautiful white canal overbridge, and after about 100-200 meters of walk, you will be at The Golden Mount. Enjoy.

---
.
Moving Around in Bangkok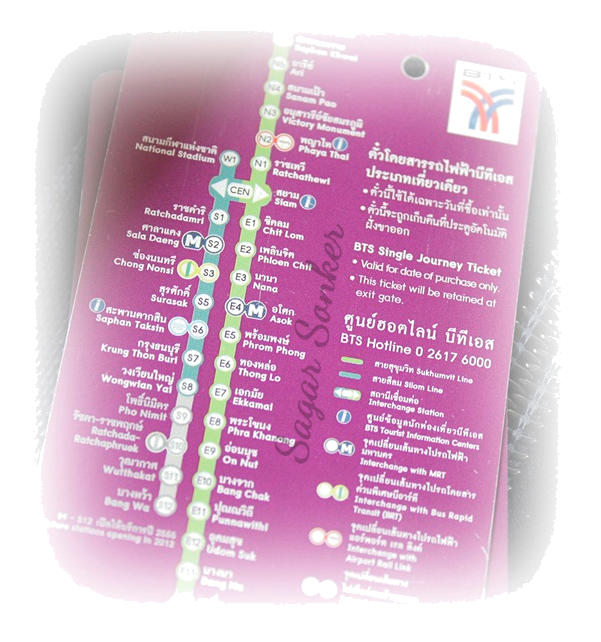 I travelled extensively in the BTS Skytrain in Bangkok. It is not only fast, but also clean, less crowded during non-peak office hours, air-conditioned, convenient, and connects you to other major parts of the city.
After a few trips I realized that I could purchase a Rabbit Adult Pass. I brought a 15 Trips pass costing me 450 Baht + 50 Baht deposit (which was returned to me after the trips were over). It was economical, because quite a few trips' fares were more than 30 Baht.
BTS Skytrain has two lines. Silom Line (Dark Green) and Sukhumvit Line (Light Green). I used both of them extensively. I'm already a fan of trains, and I traveled to and fro only with BTS Skyline. Here's the backside of a typical BTS Skytrain Ticket. Click on it to open the image in bigger size.
BTS Skytrain's Service Routes page on the BTS's official website was greatly helpful before I went there. That is the actual geographical map of the routes.
This YouTube video - ticket-vending machine - shows you how to buy a ticket from the ticket vending machine. Coins are provided at the counters.

Tuktuk - Well, not everyone is the same, but generally, I've seen them asking for exorbitant prices. This is true for Bangkok and Chiang Mai (as per my experience). It is important to fix the price BEFORE taking the ride, and not allowing them to take you to Gold Shops, etc. There's nothing wrong with trying to read the Tuktuk Driver's face, before deciding whether to take his ride or not. It's part of Face Reading that I always do.

During my First Trip with mum, we got lucky once. On returning from the Snake Park, a Tuktuk came towards us and asked us to drop at the hotel. We were fine. He earlier asked for 200 Baht, which we obviously refused and said "20 Baht". He instantly agreed, but on the way, he took the Snake Park tickets from us - probably to re-sell them to someone else. On getting down, we asked him why he took the Snake Park tickets, he misunderstood us and thought that we're asking those tickets back, and fleed without asking us money. We ended up in traveling for free (without really intending to)


During all my trips (after the first one) to Bangkok, I've not taken Tuktuk rides. I take the Metro Trains, and walk (extensively) on foot.



Cabs - I've never hired a Cab in Bangkok for various reasons: (i) I've seen traffic congestion many times in the city. Traveling by the Skytrain is fun and fast. (ii) I've read a lot about SCAMs. (iii) Didn't have to go far from the City as yet. If I do, I will update this.
bit.ly/shoppinginbangkok
.
Helpful Links
NOTE: These are NOT my endorsements or recommendations. They are only my references.

.
---