Two types of Mothers
---

bit.ly/3uBLruq

There are two types of Mothers.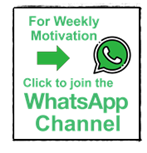 Toxic Mothers are controlling or overprotective mothers who don't allow the child to experience OR go through pain, negativity, and trouble. This disallows the child from thinking solutions on their own, and weakens their Mental Health in the long run.

Empowering Mothers are caring and loving, but they allow the child to face their own negativities right from their childhood. They are great facilitators, but don't overindulge in the child's personal life. They help empower the child for the real world.
- - - Ad - - - - - - - - Ad - - - - -

Which Mother are you? Which Mother do / did you have? Are there any changes that you can make starting today?
Thu, 07-Dec-2023
🌞 awakenwithsagar
---
• If you share content, ideas, thoughts, or excerpts from this page, please do attribute to awakenwithsagar.com • Book a 1:1 session for personal guidance.
Contribute here
💰
Random Blog Post
Archive
---